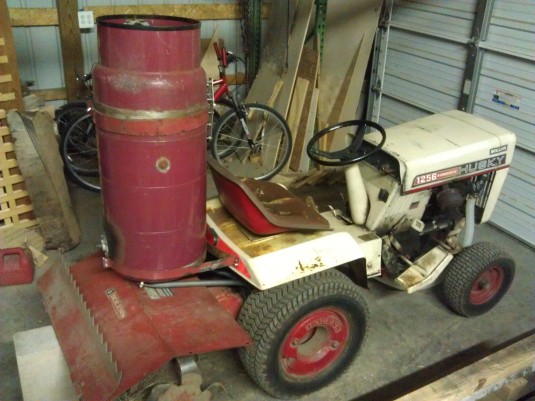 Here are pics of my Bolens Husky 1256 which assembled in 2013 and ran for some time on charcoal.
This shows the tractor with the gasifier mounted, and the rototiller attachment.  I was careful to engineer the mounting so that the tiller would still mount up and operate.  It worked fairly well but there was some lack of power so it just went slower.  I also ran it with the snowthrower attachment which worked well also.  I later added an EGR (exhaust gas recirculation) pipe which enabled the gasifier to run cooler and use charcoal more efficiently.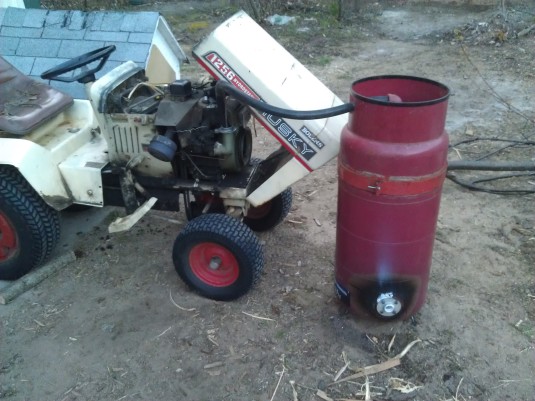 An early setup where I just ran the engine with the gasifier stationary, before mounting on the tractor.  BTW, the engine on this tractor is the original Wisconsin TRA12D, which sports a homebrew solid state ignition module which you can also read about on this blog.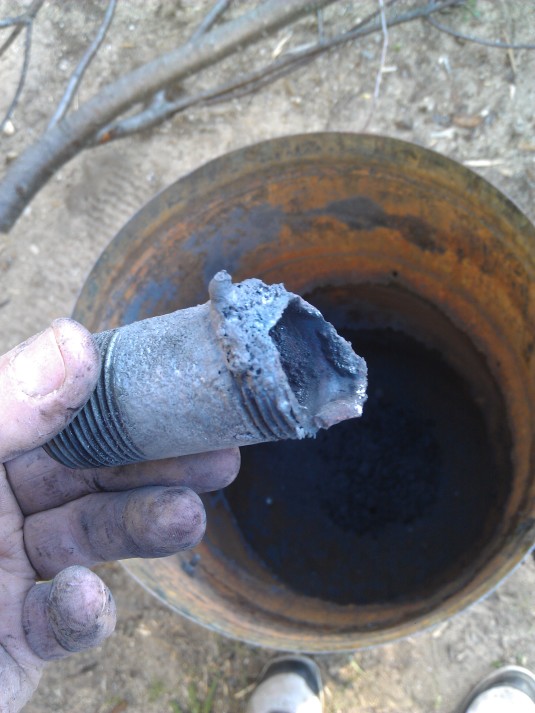 This is what happens to the air intake nozzle when it's just bare steel, and with no EGR (exhaust gas recirculation) measures taken.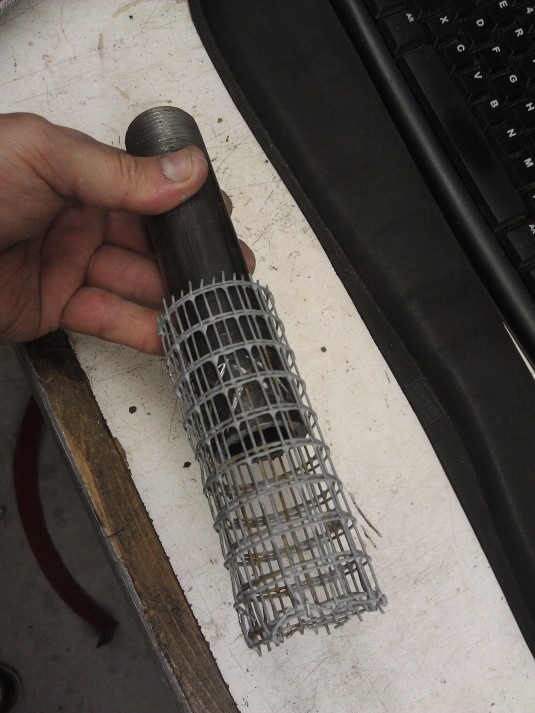 A new air intake nozzle, reinforced with wire mesh.  Later I coated the mesh with furnace cement.  Then the air intake nozzle lasted a very long time.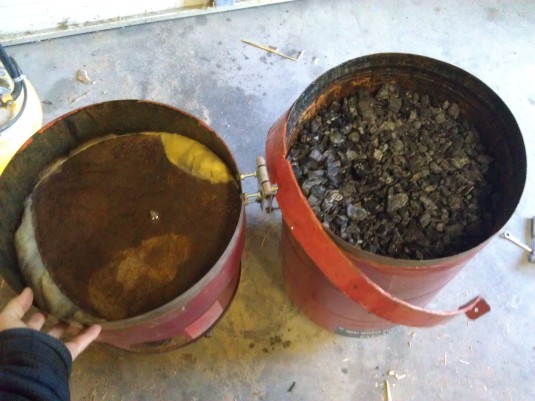 A view of the gasifier with the top open.  This is the only way to add charcoal.  It's not very convenient.  On the left you can see the fiberglass-insulation based filter.  It worked very well.
Flaring off gas after a run.  It's a very nice blue flame.
Gasifier open for filling.  There is a band (visible in a previous photo) that tightens over the gap between the top and bottom for sealing.   I coated it with red silicone rtv.  This worked pretty well and was not problematic at all for air leakage.
Latest update: I've removed the gasifier and plan to rework some things.  For one thing, the rear mounting is quite inconvenient for hooking up a trailer to the tractor, which is what I use it for a lot (hauling firewood around the property).  Also I could be a safety issue, being so close to the operator's head.  (It never sneezed once, but I worry if it did, hard enough to pop the lid)  Also, you may be wondering what I did for engine modifications — well, very little, but I did install a manual choke knob which I use to adjust timing manually (advanced timing helps with torque at higher revs).
I may mount a new version of the gasifier on the front left of the tractor.  This gasifier was made of a 20-gallon water tank that got a rust hole in it (which was easy to patch for gasifier use).  It's probably way too big and I think a tall piece of 8-inch stove pipe would work better, and would make better possibilities for filling.