I've been thoroughly enjoying my new HTC Droid Incredible 2 smartphone, but one thing I've been wanting is a way to secure it on a tripod.  Well this morning I got one made.  I made it out of cheap heavy guage stove pipe steel.  (I think it's 16 guage.)
As many of you smartphone owners know, there are challenges to getting just the right setup.  I keep my phone in a Ballistic brand case which adds a little bulk and thickness to it, so I needed to design the tripod mount around that a bit.  Another thing is the steel used which I'm pretty sure would interfere with the cellular, wifi, gps, bluetooth and whatever other radio signals need to emit from smartphones these days.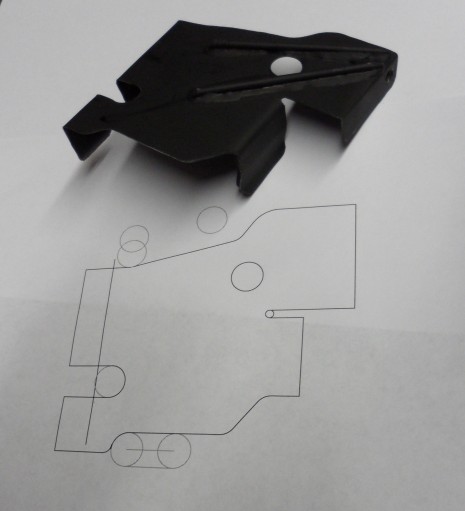 So I sat down with my trusty CAD program DeltaCAD, some teardown photos and reference photos of my phone, and came up with a design that accounts for the various antennas that my phone has.  I drilled 1/2″ holes in the bracket wherever it was going to obstruct the antennas.  I haven't actually tested the reception of the phone yet but I am sure the holes will help.
Another thing is the antenna hole toward the bottom greatly weakens the already mild steel, so I soldered two big nails (with the heads cut off) along side the hole.
Then I put some self-adhesive rubber strips (actually just heavy rubber electrical tape)  on the inside of the bracket where it touches the phone, both to help prevent abrasion and provide grip.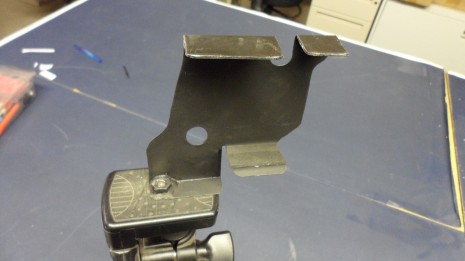 I've posted a pdf of my reference drawings so if you want to make one for yourself, feel free.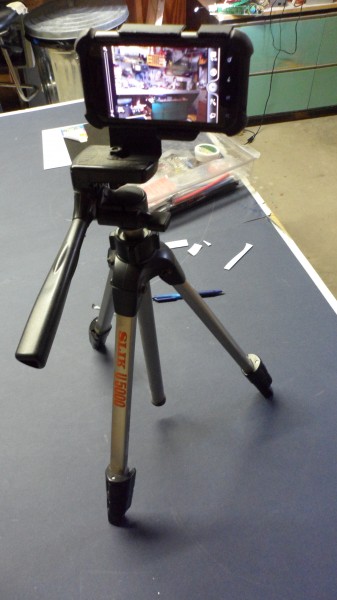 Here it is taking a shot of my messy workbench.
Oh yes another thing, you may be wondering why the tripod mount holds the camera way off to one side.  Well the reason is that I wanted the lens (which is where the picture is captured from, duh) to be at the rotation center of the tripod.  You may ask, why that?  Well if I ever want to do stitched panoramas, accuracy is important in this regard especially if the panoramas are indoors or closeup.  Sort of a technicality, but hey–I thought of that!!