Two-cylinder lego engine runs on vacuum
Here you can see the action! Running on a vacuum, this engine probably
does about 400 rpm. There are some gif animations and audio files that
you can view!  The engine can start from any position of the crankshaft.
Here it is, a working two cylinder, double acting Lego Steam Engine. Of
course, the "steam" is either you blowing into it or running off of a
shop vac.Here you can see the action! Running on a vacuum, this
engine probably does about 400 rpm. I would have included a recording
of the engine running in this way, but the vacuum noise overpowered the
sound of the engine running. Hear an audio (120k) of me blowing with all my might to run this engine!
Another angle of the engine running on vacuum. For some reason the
engine ran better with the shop vac sucking than it did blowing.
Compressed air motored it well, however.
Here's a shot of the air inlet. This inlet is configured so that the
holes in the sides of the cylinders line up with it at just the right
moments to provide the power strokes.
Now let's disassemble the engine and take a peek at the valving and
timing mechanism. Very simple, the cylinder just rocks this way and
that to open and close the top and bottom timing ports.
In this image you can see more detail of the air inlet and "manifold" that routes air to all four timing ports.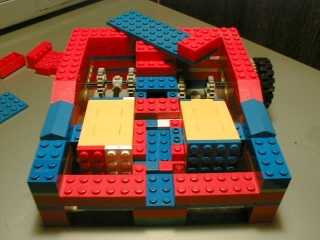 Both cylinders draw from center steam chest
More views of the engine, simply to clarify the design.
Notice the rubber tire flywheel on the left side. This isn't absolutely
necessary to make the engine run, but it does run smoother with it
there. This tire is from the Expert Builder #9 Go-Kart set that I
received for my 10th birthday. I'm in my 30's now and still love
playing with Lego!  (Kids, before Technic, it was called "Expert Builder.")
These images are quite large, but please be patient. They are over 400 kbytes apiece.
They are animations of the two cylinder that demonstrate the valve timing and crank throw angle difference.  Click the picture to see the animation.
Because the power strokes of the two cylinders are 90 degrees apart,
the engine has stalled torque at and will start from any position of
the crank, without giving the flywheel a spin!
View my Single Cylinder, Single Acting steam engine!
View another great Lego Steam Engine Website!