Got an old circuit board full of perfectly fine SMT devices, but you have no idea what they are or what they do?  You need data sheets.  Lots of them.  Here they are.
I just love sitting down at the computer with a circuit board in hand, typing in numbers and seeing what various component's functions are.
Another fine do-it-yourselfer! Here you can download a number of free
and for-purchase plans, all excellent quality. (I know because I've
personally previewed and critiqued some of them!) I have chatted online
with Jim at considerable lengths and found him to be quite replete with
fresh ideas for D.I.Y. shop projects.
Jim is also up and
coming with plans for such very cool things as quarter scale hot air
balloons, hydroponic gardening, and more! Email him your questions! Click here.

Published by O'Reilly Media, this is one FINE web site. Lots of gadget
hacking, build-your-own-stuff, rocket belts, robotics, and even arts
and crafts to keep the ladies from getting bored. Warning: GEEK
OVERLOAD!  Click here.

As you can see from my website, I dabble in a distracting variety of
hobbies, but here's a gentleman that has concentrated on machining.
More than just a hobbyist, James Harvey has authored a book on machine
shop secrets gained after thirty years in the business. Check it out! Click here.
If you are building anything out of metal, you need to know about this
fine source of metal stocks. They have it all, and it's super easy to
order online. Click here.
Search the patents that died of neglect! I created this site, and while
tooting my own horn is not in my usual bag of tricks, I must say that
this web site has fast become a favorite. But please don't just take my
word for it, check it out yourself.
There are over a hundred thousand expired patents in the database, and a top 100 companies list of who's letting 'em slide! Click here.
A great source of books on rare information. It is mostly reprints of old
metalworking and scientific texts. You will also find the full Dave and
Vince Gingery lineup here. Click here.
Here's the basic information on pouring molten metal into a distintegrating
styrofoam pattern. This is lots of fun, I have done this. Click here.
Digi-Key Corporation is an excellent source of eletronic parts for the hobbyist!
You can order online from a large selection, and they also send out a
very nice printed catalog. Digi-Key is where I got my IRKT71 scr module
for my homebuilt welder. Click here.
The makers of the IRKT71 and many other fine products Click here.
Many, many pdf files with application notes and sample schematic diagrams. Click here.


ST Microelectronics Online Data Books
This is website I created to showcase the line of technical
illustrating, web design and computer software and IT (information
technology) services that I have been busy with lately. I have extended
my offerings beyond the workbench, so now you can benefit from my paid
services as well. Go to www.dynamodan.com and check it out!
The computer generated object pictured here represents a dynamo like you
might find in a science store–makes you want to grab the chrome
spinner and give it a twirl, and watch the sparks jump across the
electrodes! But it is purely imaginative and I created it to use as my
mascot. Click here.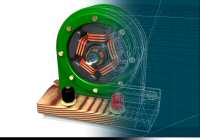 Professional Creative Services
This is a site I helped design.  (Did the PHP programming and such.) No, I'm not checked in to it, no matter how crazy you all think I am.
Thank you for your interest in my website. I will be posting more and more
photos, articles, and purchase-and-download plans for my projects such
as the Improved Electric Radiant Shop Furnace.
But rest assured, the free HTML version of this and the other projects on www.dansworkshop.com
will always be available for free. Nonetheless, these pages are a lot
of work to put together, so I've made it easy for you send me
donations. I won't be insulted by the even smallest amounts. Be a pal…